We have had an awesome summer. This week has been busy, which is pretty typical for us these days.
Monday, we had a play date with two other sets of twins. It was fun to watch Avery and Harper with other kids. I didn't get any pictures from our play date, but here are a couple before our friends showed up.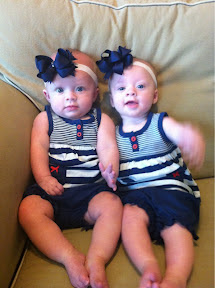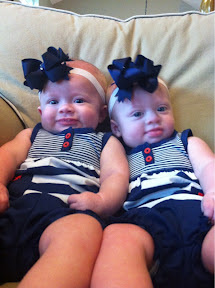 Taking pictures of these two is quite hard. They love to scoot down now!!
Tuesday, we went and swam with a few friends. The twins seem to love the pool!
Today we woke up early and dropped Harper off at Miss Sandie's. Avery had an appointment at Cranial Technologies for an evaluation. I've been worried about the flat spot on the back of her head, since she was 2 months old.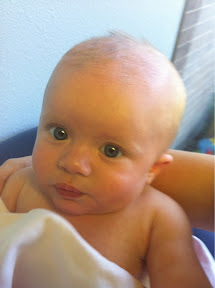 The specialist said she has moderate flattening on the back of her head called Brachycephaly. Basically, her head is wider across and it needs it to fill in more in the lower back, by her neck. He said that if we choose not to put her in a helmet, it will somewhat fill in as she gets older, but it's still not going to completely look the way it should. So at this point we're waiting on insurance. If they deny coverage, then we'll have to figure out what to do. It is expensive without insurance coverage!!
The picture on the left really shows how wide her head is from left to right. Also, the pictures up top show how sloped her head is towards her forehead, it shouldn't look that way.
So far Harper's head looks pretty good. I really think the way Avery was positioned in the womb has caused her head to do this. She was breech and smashed against my hip bone...poor baby!!
This afternoon Avery and Harper napped, played, and had a little bit of oatmeal.
While making oatmeal, Avery managed to roll and scoot across the room. She started out on her play mat and ended up like this....ha ha!!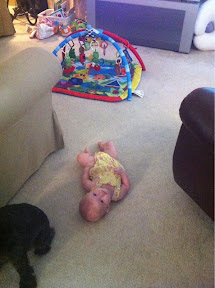 She is a busy little girl. Hope your week has been as awesome as ours!!!