Whenever I first brought the twins home, I never in a million years thought I would ever leave the house...ha ha!! Well fast forward 5 months and now I do it all of the time, even by myself. How about that?!?! I love being home and in our routine, but we do at least one outing a day. Depending on their mood and the flow of the day, sometimes it is twice. I'm a very organized person and I love routine, so I think that's how I make it work. Also, I love to take them on walks, Target, the mall and also to lunch with my friends.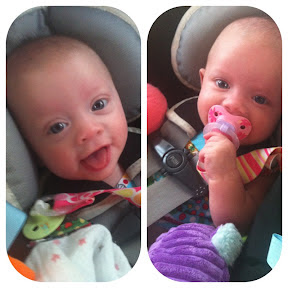 Usually, I always schedule our outing right after they eat at 9:00. Before I feed them I load up the car with my purse, diaper bag and usually a cup of coffee too. Gotta have my caffeine in the morning....ha ha! Then I feed them, change their diapers again and load them up. We usually stay out until 11:30ish and then it's time to come home, they eat at 12:00 and then go down for a nap. While we're out and about they usually cat nap.
This morning we ventured to the mall to walk. This is about the only opportunity I have to exercise. It's too hot in Texas to walk outside right now.
It's not rocket science, but I do think it takes some organization to make it happen. There is no way I could be home all day without getting out. I would go crazy!!!!!
- Posted using BlogPress from my iPhone