Wednesday night we attended our first water babies class. I know they are young, but with two I need to get them acclimated to the pool. Also, they need to start learning the terminology, so that we can have safe swimming experiences. I love to go to the pool, having children isn't going to change that...ha ha!! So I'm attempting to turn them into water babies. Overall they seem to love the pool.
Yesterday our sweet friend, Jen, invited us to come over and swim. Avery and Harper loved it!
So I put on their swimsuits, lathered them up in sunscreen and off we went.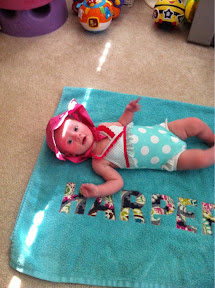 Jen's pool is so nice because it's completely shaded in the morning. It wasn't too hot either, which was nice.
Harper preferred to be held, which is fine with me. Avery laid back and relaxed!!!
We have a pool date tomorrow with Mer Mer, then again on Tuesday with our friend Debbie. Should be lots of fun!!
I for see several more pool days in the near future.
Have a great weekend!
-Posted using BlogPress from my iPhone