We had a pretty low key Halloween, but it was still fun! Our sweet friend Sarah came by to love on the babies and visit us. It was nearly 80 degrees on Halloween, so I didn't want to put the babies in their ladybug costumes. Thought it would be s little too hot. Instead I put them in an adorable Halloween tutu and we went for a stroll around the neighborhood.
These pics are from a couple weeks ago when they tried on their outfits.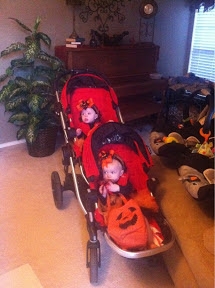 All ready to go on their evening walk. We let them take their Halloween bag, but we didn't do any trick or treating...maybe next year!
By the time we got back home with was time to start our bed time routine. Jeremy and Sarah gave them a bath, fed them and put them to bed, while I handed out candy to a few trick or treaters. I'm sure our future Halloween holidays will be much for exciting.
- Posted using BlogPress from my iPhone