Dear Avery & Harper,
You turned 4 months old on June 6th. I'm so sorry I am just now writing your monthly post, you both keep mommy REALLY busy!
I know I say this every month, but I cannot believe how fast time is going. You are both cooing so much now. I love that we can communicate in that way. Also, you both smile a ton!! My favorite part of the day is going to get you in the morning. You both get the biggest smile when you see me.
We give you a bottle of milk every 3 hours. Most of the time you drink 4 oz., but sometimes you eat a little more or a little less. We let you decide how much you want. You both fit great in 0-3 month clothes. We have started putting you in some 3-6 month clothes, but you have some room to grow into them. You both wear a size 1 diaper pretty good. Avery I think we will be bumping you up to size 2's pretty soon.
At your 4 month check up, Avery you weighed 12 lbs. 5 oz. and you are 24.3 inches long. Harper you weighed 11 lbs. 2 oz. and you are 24 inches long. Both of you are pretty petite for 4 month olds. They say great things come in small packages...Daddy and I agree with that!!
Tummy time is a battle each day, but we still do it. You both lift your heads and turn them smoothly from side to side. I really think you will be rolling soon. You are both so STRONG, all of that tummy time is paying off.
You are both awesome sleepers too. We start bath time/bed time routine around 7:30. You are typically in bed by 8:45 or 9:00. Some nights you wake up hungry at 4 or 5, but then you go right back to sleep after mommy feeds you. Then you sleep until 8 or 8:30. We love that you let us get a great nights sleep!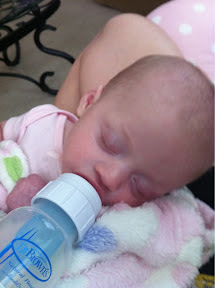 This summer mommy is enjoying spending everyday with you. On Monday and Wednesday mornings you still go to Miss Sandie's, just to keep you in your routine. You love Miss Sandie and Miss Amanda so much!!! Your face lights up when you see them.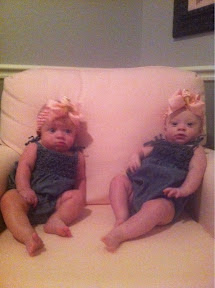 Avery and Harper we are so lucky to be your parents. You are two of the sweetest babies ever!! We love spending each day reading to you, singing, playing and showing you what this world has to offer. Looking forward to another month of fun with you!
We love you to the moon and back!
Love,
Mommy and Daddy
- Posted using BlogPress from my iPhone