Today I'm linking up with
Blessed with Two
another MOMs post, this time I'm telling my pregnancy story.
Pregnancy was anything but easy for me. After my two perfect embryos, Avery and Harper, were transferred back into me I developed overstimulation of my ovaries. This was due to the shots I had to take for my egg retrieval. All in all I ended up in the hospital while on our babymoon. Even though it was the most painful experience in my life, I kept a smile and positive attitude knowing I was carrying two miracles.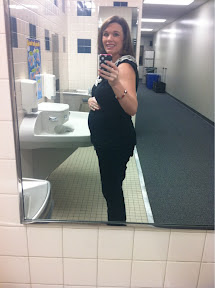 My second trimester went really smooth until 26 weeks. I went to my routine doctors appointment and found out my cervix was nearly gone and I was already dismayed to a 1. ScArY!!!! So Dr. H put me on bed rest in the hospital. At that point we began to prepare ourselves for the twins to be born early.
During my ultrasound that week with Dr. A, our high risk specialist, he discovered that both twins had Velementous Cord Insertion. Basically their umbilical cords were not inserted into the placenta correctly and they both passed through the intervening membranes of their sacs. Once again another ScArY discovery!!! It is a very rare issue. My doctor has been practicing for 30+ years and I was only the 3rd patient to have this issue. At that point I was told I would be on bed rest in the hospital until I delivered Harper and Avery. Every time I moved or got up to go to the bathroom I just prayed...please keep these babies safe and please keep my water from breaking! If it would have broke, we would have had to deliver them by emergency c-section to keep them from bleeding to death. Since the umbilical cords were not in the correct place on each placenta, they were loosely hanging on. If the umbilical cord were to break away it could have been a disaster....once again ScArY!!!
After laying in a hospital bed for 76 days, I delivered my baby girls at 37 weeks. Avery was 5 lbs 3 oz and Harper was 5 lbs 1 oz. Both babies avoided NICU....hallelujah!!!
- Posted using BlogPress from my iPhone