The past couple of months have been a whirlwind. While I should be enjoying every second with my twins, I have been worrying about something I never thought I would faced with....cancer!!! Let me take you back a couple of years ago, I noticed that the right side of my neck had a lump. Of course I freaked out and went to the doctor. My primary physician sent me to have an ultrasound of my neck. At that time they discovered I had a few enlarged nodules on my right thyroid lobe, but nothing that looked suspicious. This was a relief because, at that time, we were preparing to do IVF. Fast forward to this summer and I noticed my lump was significantly larger. Made another appointment with my primary doctor, she sent me for yet another ultrasound. Unfortunately the results did not come back as good. She thought it would be best for me to visit an Endrocronologist for a biopsy. A month later I was finally able to get into an Endrocronologist. She did a biopsy and called me a week later, on a Sunday no less, to tell me that I in fact have thyroid cancer.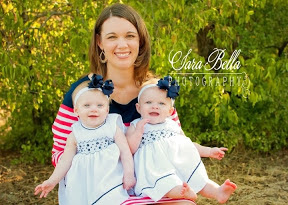 At this point I'm angry, scared and don't know what to think about this diagnosis. After a long struggle with infertility, going through IVF, 76 days in the hospital on bed rest, and now I have thyroid cancer, while trying to keep up with my 8 month old twins. Looking back now, I know that God put me through all of those struggles for a reason. He was trying to prepare me for something much for difficult. Through those experiences he taught me to be patience and more understanding!!!!! Now I understand why he gave Avery and Harper to me at this time. He knew I would need them to help me get through this. Looking at them daily has given me the strength to tackle this disease head on.
October 3rd I was admitted into the hospital to have a total thyroidectomy. It was so incredibly hard to leave Avery and Harper, this was the first night I had ever spent away from them. With Jeremy, my mom and grandma by my side, we left to go to the hospital. The surgery went well and they removed not only thyroid, but also 22 lymph nodes from behind my thyroid. Out of the 22 lymph nodes, only 2 had cancer....praise the Lord!!!!! My scar is looking better and better everyday.
On Tuesday, October 23rd I was admitted to the hospital for iodine radiation. Through this whole process, this was by far the hardest experience. I had to be in isolation at the hospital for 2 days. Being away from Avery and Harper killed me. They were in good hands with Jeremy, my mom and their nanny, Kayla. They were busy pulling up on everything, playing and going for daily walks.
After not feeling so good Wednesday, in the hospital, yesterday evening I was released to come home. It was so good to see my babies smiling faces!!!! They acted like they were in shock to see me, since it had been a couple of days.
At this time I am so ready to start caring for my babies full time. I'm still too radioactive to hold them for long periods of time. We are so blessed to have so many wonderful people to help us out!! We have had many friends and family helping Jeremy with the girls. Caring for one baby is a lot of work, but when you have twins it is non-stop all of the time!!! Each day I thank Him for helping me find my cancer early and that I have a positive prognosis. In time, my energy will come back and we will be able to move on with our life.
- Posted using BlogPress from my iPhone